Bowl of Vegetable Dumpling Soup

Vegetable Dumpling Soup

1 Packet Dumpling Skins
1 ½ Cups finely chopped Carrots, Beans, Mushrooms, colored Peppers, scallions or any vegetable of ur choice
2 tbsp Soy sauce
1 tbsp Sesame oil
Chopped Ginger and Garlic
Salt & Pepper
Oil to stir-fry

In a stir-fry pan, heat oil add ginger and garlic, all the vegetables and cook for 2 mins. Add soy sauce, sesame oil, salt and pepper cook 2 more mins till all the liquid evaporates.
Once its done let it cool.
Take dumpling skin, place 1 tsp of filling in the centre, damp the edges with water and shape dumpling of ur choice. Make all the dumplings you needed.


you can store them in the freezer for later use if u want.



Get a pot of salted water to a boil, in batches, add the dumplings and boil until cooked through, about 3to 4 minutes
Remove with a slotted spoon and drain. You can serve them with dipping sauces. But here we are working for Soup.

For the Soup

First we have to make vegetable stock.
Take 2 cups of mixed vegetables of your choice (I use potato, carrot, celery, onion that's all available for me today) Cut all the vegetables in to big chunks. Take a stockpot with 5 cups of water, add all the vegetables, 3 cloves of garlic, 1 tsp of chopped ginger, bay leaf, 4 cloves and few peppercorns. Put it on a high flame till it started to boil and then simmer it for an hour. Strain the stock in a colander, keep it aside and you are good to go.


For more detailed recipe for stock refer to- http://allrecipes.com/HowTo/Making-Vegetable-Stock/Detail.aspx Its very helpful.

When ready to serve, boil the stock , add green onion, sprouted soya beans, salt, ½ tsp of sugar, pepper and dumplings boil for 1 more minute.
Serve hot with a bottle of tobacco sauce for the added spicy kick if needed on choice.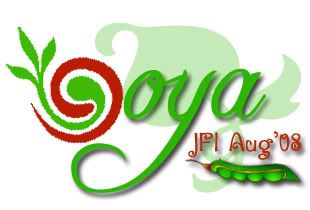 I'm sending this recipe to Dear Sia of beautiful Blog http://www.monsoonspice.com/ for the event JFI-Soya. Thank u Sia for the opportunity.

On Chinese New Year's eve, making and eating dumpling is a tradition in China. Family members would get together to make it.

Labels: chinese, soup, vegetable dumpling soup, vegetable dumplings